It is good to offer kids a balance of independent play time and play where you are actively engaging with them. You can make toys they may be bored with, feel new and exciting, by suggesting different ways to play with them. Try some of the ideas below as a starting point.
Play Food/Dishes
Teach your host children how to say the names of some of the food and dishes in your language.
Using English and/or your language play games where you are ordering food like in a restaurant. Take turns with who will be the waiter and who is the customer.
Come up with silly food combinations.  For example: Who wants pickles on their slice of cake?
Play a guessing game where the children have to figure out what food you are talking about.  For example: I grow under the ground in the dirt.  People eat me fried, mashed and baked.  What am I? (a potato)
Play a game with setting the table using your language to ask for the different items (plate, spoon, etc.)
Ask the children to divide the foods up into the different food groups (vegetables, meat, dairy, etc.)
Lego Blocks and Other Building Toys

Divide up all of the blocks between the people playing, by taking turns for each person to select block by block.
Suggest specific things to build (robots, houses, mountains etc.) and build together.
Challenge everyone to use all of their blocks.
Sort the blocks by color or shape and make patterns with them (red, blue, red, blue or square, triangle, rectangle.)  You can create a pattern and ask the child to fill in what comes next to continue the pattern.
Make the tallest block tower you can and let them knock it down (over and over again, if like most kids, they like destroying things.)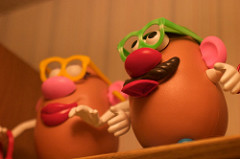 Mr. Potato Head

Teach your host children the names of the different parts in your language and play a game asking them to put on the body parts by name.
Play Hide and Seek with Mr. Potato Head. Have the children cover their eyes and count, while you hide Mr. Potato Head, then they go looking for him. Switch things up by letting them hide Mr. Potato Head and then you are the one to locate him.
Play the same game above, but using Simon Says.  Simon Says is a game where the leader gives commands by saying "Simon says" first. For example, "Simon says, put on the nose."  The players are only to follow the commands when the leader says "Simon says."  If the leader doesn't say "Simon says" first and just says, "put on the nose,"  and the player follows the command, they are out of the game.  Repeat the game multiple times, so all kids get a turn to be the leader at least once.
Photos:  Lisa Maxwell (top) & Tom Smalls (bottom)