Re-cycled Crayon Valentine's
If you're looking for the easiest way to make heart-shaped crayons, you're best bet is heart shaped silicone molds that you can place directly into the oven.  
Here's a great tutorial for that
.  I, unfortunately, did not have silicone molds at home.  I had plastic heart molds (and, by golly, we were going to use them!!).  So, I scoured the internet for alternative methods and picked the easiest things I could that we had on hand.  Here's what we ended up with:
Ingredients:
Lots of  broken crayons (Update:  Be sure to use Crayola's instead of generic crayons for the best results)
Plastic heart-shaped candy molds
Glass Jars  (old pickle, jam, relish, etc. jars)
Chop Sticks (for stirring)
Pot-holders
1.  The kids got to work pulling out all the broken crayons from our big tub of crayons.  Then they sorted them by color and began unwrapping them.  (I used a knife to score the sides of the wrappers to make this easier.)
2.  Then, we put each color into a different jar.  (One site recommended Dixie cups for this part and another said that aluminum cans in a water bath on the stove could be substituted.  We did not have either of those.)  I only had 3 jars so we did the lighter colors first and kept like colors together.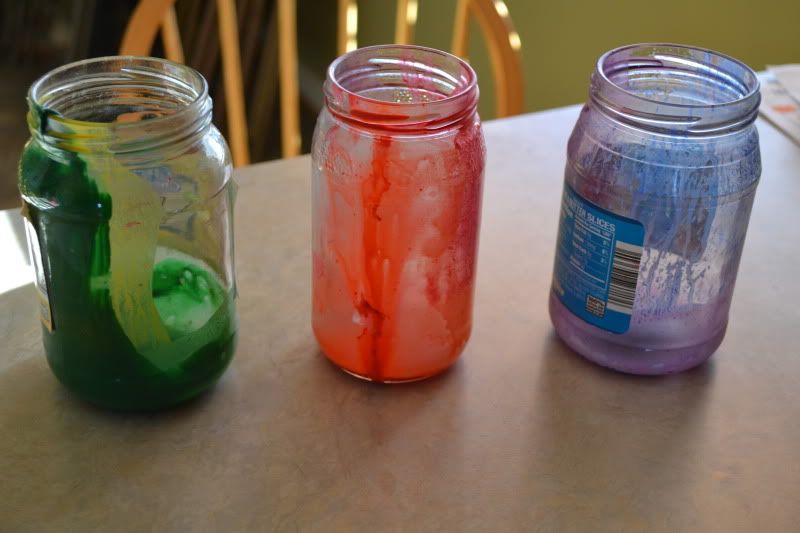 3.  Microwave each jar for 3-5 minutes, stirring occasionally with the chop sticks.  Caution:  THE JARS WILL BE HOT!!!  Be sure to use a pot-holder or towel to remove them from the microwave.
4.  Once melted, pour the wax into the candy molds and let settle for a few minutes.  Then, they can safely be transferred to the freezer.  After a few minutes in the freezer, they will pop right out of the molds.
*We did one color at a time since we only had two molds and colored pictures in between colors.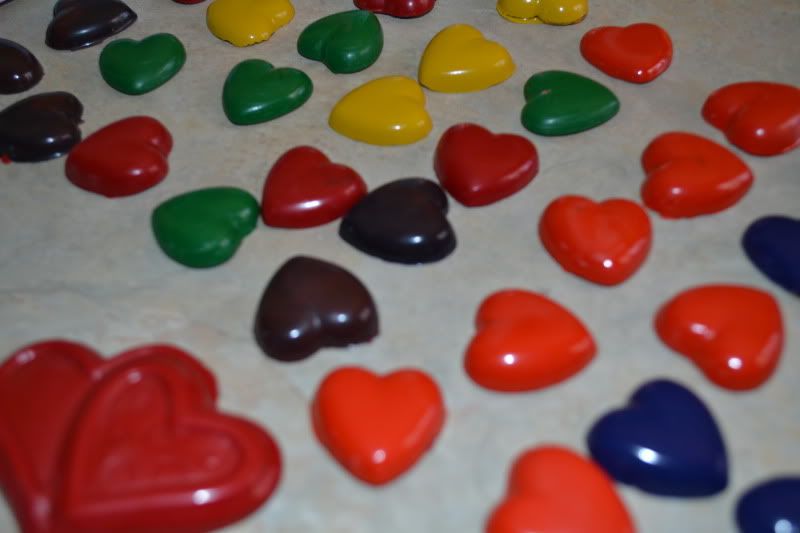 5.  Then, we bagged up a few crayons for each child in small ziplock bags found in the bead & jewelry section of any craft store and added a little note that read "Valentine, You Color My World."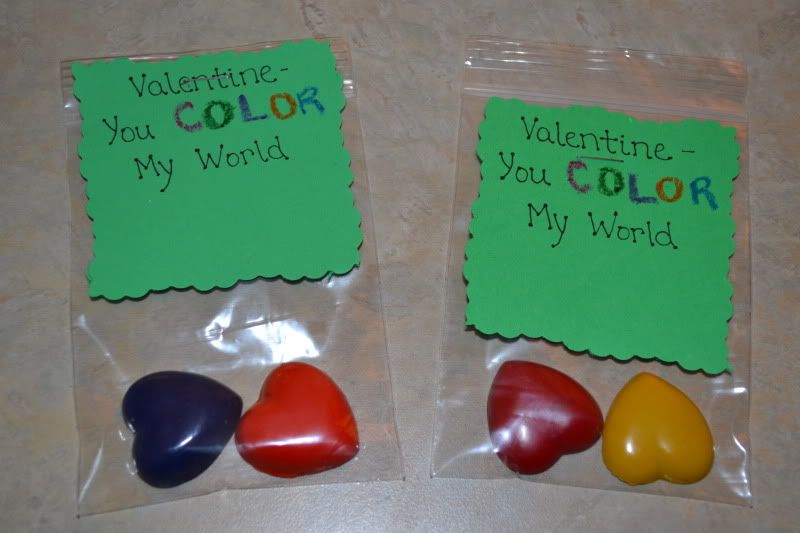 Super cute!!  Of course, next year I think we'll just invest in the silicone molds ?